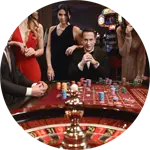 ROULETTE EQUIPMENT
Casino roulette tables require a set of gaming equipment including roulette wheel, table display, dolly & roulette balls & chipper machines for sorting wheelchecks. When roulette table is closed, wheel levelers are used to check & adjust wheel balancing, the wheel cover secures wheel from unauthorized interferance.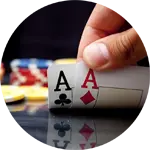 POKER EQUIPMENT
Poker equipment for casino banked games inludes 100% plastic cards, shuffler or a dealing shoe, float tray & gaming chips, a discard holder stores playing cards after each round. Player-to-player poker equiment requires marker buttons sets and special ABS float tray to hold accessories during the game.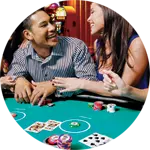 BLACKJACK EQUIPMENT
Blackjack card tables are operated with paper or plastic playing cards with enlarged index. Cards are dealt using a multi-deck shuffle machine or a card dealing shoe. The dealer discards playing cards into a tall dicard holder or back into the shuffle machine.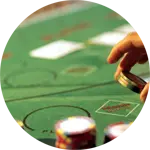 BACCARAT EQUIPMENT
Baccarat equipment set requires electronic or manual dealing shoe using small index paper cards. Table display enhances score/trend visualization. During squeeze Baccarat players bend cards, to be discarded in a special bin. Baccarat marker buttons improve surveillance of events during the game.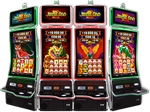 SLOT EQUIPMENT
Casinos & slot halls require slot machine cabinets preloaded with slot games, slot bases, ergonomic seating & TITO tickets. Electronic gaming terminals are used to extend live gaming into electronic environment.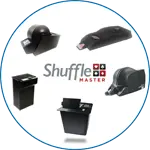 SHUFFLE MACHINES
Professional card shuffle machines are used by casinos and poker clubs for continuous, uninterrupted gameplay, while ensuring the game is dealt fairly and without manipulation. Shuffle machines are designed for different table game application and vary in table installation design.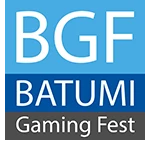 MEET US IN GEORGIA!
We look forward to meeting you in person at upcoming Batumi Gaming Fest event in Georgia. Batumi Gaming Fest is a major gaming business and investment event for land-based and online casino operators. Use "INSIDER" (all caps) promo code for 20% discount on tickets. If you are visting Georgia before that, get in touch with us, we're friendly!