Poker float trays are designed for poker room use, they have less columns but can accommodate additional table accessories, such as Dealer buttons, playing card decks and chip spacers.
Gaming Supplies LLC offers stock availability of professional poker float trays with capacity to hold up-to 300 chips in 6 columns.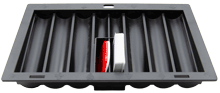 Mini-sized float tray is perfectly suited for rake commission collection on cash poker games. The middle storage section offers additional storage racks for two decks of playing cards.
Additional 2 mini-columns for
chip spacers
and
dealer buttons
. High-quality durable plastic offers premium look and long lasting professional application.