Dealer Button is used on poker room tables to mark a player who makes the last decision in that poker round.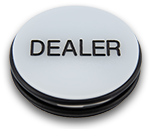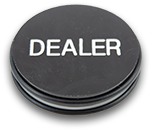 Gaming Supplies LLC offers a choice of poker dealer button designs, all available from stock. Double sided design has "Dealer" letters engraved on black and white sides, being 75mm in diameter this button is the largest size.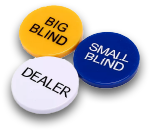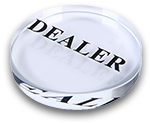 Alternatively, transparent acrylic dealer button is available. Lastly, we offer a set of three poker buttons with a 30mm diameter each, which includes a smaller version of dealer button (white), big blind (yellow) button and small blind (blue) button.