Poker shoes manually deal single deck of playing cards on banked casino tables.
Single deck poker card dealing shoe is designed for casino banked poker tables.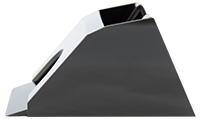 The poker hands are manualy dealt by casino dealer. Compact design of poker card shoe takes up minimal space on the gaming table top. There is no roller mechanism to push the cards. The design of the poker shoe can be black acrylic or transparent. Light and ergonomic, poker card shoes offer additional security on single deck games and reduce card handling.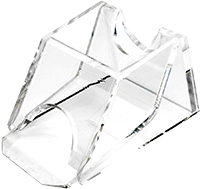 Transparent poker card shoes are often used by online gaming studios, offering reassurance to online players by improving visibility of all table game processes. Size weight and dimensions is identical to the black acrylic single deck dealing shoe.
Consider casino quality 100% plastic poker playing cards